We get it buying a jiu-jitsu gi is fun but it can be time consuming to browse the web to find the cool unique bjj gis. That's where we come in, we've spent time browsing the web to find some of the coolest, unique and often expensive jiu jitsu gis.
These gis, while unique will tend to be more expensive than your cheaper introductory bjj gis. What's great about the unique gis we list in this article you can buy any of these today.
Isami: Tora Gi
Isami is a japanese martial arts company that produces some of the best looking bjj gis around.
My personal favorite is the Tora Jiu-Jitsu Gi. It is a pretty unique bjj gi that is soft and light and comes in white, blue or black. The jacket is a Lightweight Double Weave Sashiko fabric. The pants are made of 100% Twill cotton.
One of my favorite features that helped this gi make it on our list of the best looking bjj gis are the patches and embroidered logo. Normally I'm not a fan of patched gis but the Tora has a very clean aesthetic.
ALAVANCA: AVA Combat Gi
ALAVANCA calls itself a unique training and lifestyle brand that strives to connect with all jiu-jitsu practitioners regardless of affiliation. ALAVANCA was a favorite saying of Grandmaster Helio Gracie. Translated it means, "Leverage."
Their flagship gi is their AV Combat Gi. This cool jiu jitsu gi is a sleek, clean looking and slim-fit. The jacket is made out of a lightweight pearl weave cotton with a aesthetic sublimated camouflage lining inside. The jacket is made out of a lightweight pearl weave cotton blend (350 gsm). The pants are constructed with a lightweight twill cotton blend with quadruple reinforced pant loops and a flat rope drawstring.
On top of that this gi is eligible for IBJJF tournaments.
Moya Brand Co: Pacific Rim Ace Gi
MOYA Brand Co. easily has some of the best looking gear and bjj gis we've seen lately in the jiu-jitsu seen. They have a focus on minimal designs with tastefully placed embroidered logos and woven patches. MOYA Brand Co. BJJ gis are IBJJF and competition approved and are built to last.
Our personal favorite is the Pacific Rim Ace Gi. The design drew inspiration from WW2 Pacific Combat Uniforms and is lightweight with triple stitching where it matters most. The most noticeable feature is the MOYA Brand Co. embroidered logo on the left lapel and the embroidered badge on the right lapel.
The jacket is a single weave pearl weave jacket with EVA foam padded collars. The pants are a 10 oz cotton twill fabric.
Shop Moya Brand's Collection of Gi's Today.
Violent Gentlemen: VGJJC Gi
Violent Gentlemen: forged from steel and bound by a code – Respect. They are a brotherhood of upstanding individuals with an appreciation for design and nose to the grindstone. Originally, they produced hockey inspired apparel but lately they have been diving more into the BJJ scene. Their flagship bjj gi is certainly a cool BJJ gi that deserved to make it on this list. This unique gi is made from a Honey Comb Weave and offers a lighter but durable feel and comes with tasteful embroidered logos.
The jacket is made from a 500 gsm Honey Comb Weave with lycra to prevent rash burns and is durable. The pants are a 10 oz ripstop cotton that provide maximum strength and durability.
This gi has a lot of attention to detail, the drawstring for the pants are embroidered with "nobody likes us we don't care". This is a pretty sweet looking bjj gi you have to check out.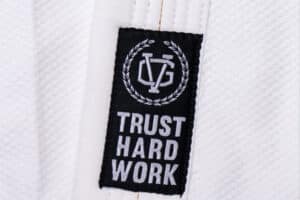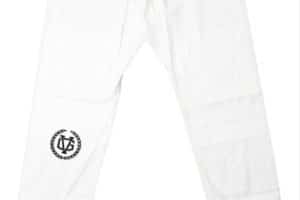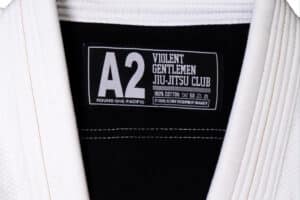 93 Brand: Wild Tiger Jiu Jitsu Gi
93 Brand launched back in early 2012 and offers high quality cool looking bjj gis all at an affordable price point. And staying true to East Coast roots, they have a passion for NOGI and wrestling so they offer a line of compression gear too.
Making our list is the 93 Brand "Wild Tiger" Jiu-Jitsu gi. This unique bjj gi most noticeable feature is the vibrant fully sublimated mesh lining featuring original artwork of a tiger.
The jacket comes with a 450 gsm lightweight pearl weave fabric and a breathable mesh lining and an EVA foam core collar. The pants are a 10 oz twill cotton with full-length knee reinforcements.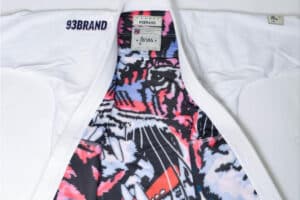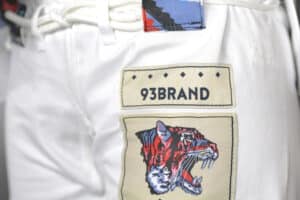 Hyperfly Brand: Captain Americana Premium Gi
Hyperfly was founded in 2011 by a small German immigrant family and their core values are authenticity, diligence, and perseverance. Over the last few years Hyperfly has created a brotherhood of fighter who share their same philosophy.
Making it on the list is The Captain Americana Premium Gi. In a modern world fraught with danger, the world needs a hero with submission powers. On the outside this custom bjj gi sports a minimal appeal with Stay Fly embroidered on the back and comes in black with heavy reinforced seams and a tailored fit. Also, this awesome looking bjj gi comes IBJJF approved.
The jacket is a 450 gsm premium weave blend built using a one piece construction with no back seams. The jacket also comes with an EVA foam collar and 6 stitch at the end of the sleeve for added grip breaking power. The pants are 10 oz drill cotton with reinforced double layer knee padding. Also, it comes with a stretch rope drawstring and a 6 point loop system.
CTRL Industries: Funky Worm BJJ Gi
The people over at CTRL Industries have a simple goal. To make the cleanest styles and highest quality gear that represents who they are as practitioners of Jiu Jitsu. This brand produces high quality, awesome looking jiu jitsu gear at a relatively affordable price point.
Making the list from CTRL Industries is the Funky Worm Edition 4. This gi comes in royal blue with khaki and white embroidery. The most striking feature is the wild funky worm print that is on the sleeves and inner collar. The jacket features a light 400 gsm high-tech weave top. The pants are twill cotton pants and also come in royal blue.
NVM: Death of The Ego
Up next is NVM Jiu-Jitsu. NVM wanted to create a unique brand with a core focus on functionality and comfort. Their trademark style utilizes lean lines, aesthetically pleasing exteriors and custom sublimated print with propaganda style artwork. In the end, you get a unique jiu-jitsu brand that stands out among other brands with a more Japanese appeal.
Making it on our list is the Death of the Ego BJJ gi. This is probably one of the coolest BJJ gis you will find. This gi comes in white or black and features their trademark custom propaganda artwork sublimated on the inside of the jacket. The gi also sports clean lines and custom embroidered logos.
The jacket is constructed using a lightweight pearl weave fabric. While the pants are a lightweight ripstop fabric. They claim the gi will improve your jiu-jitsu and if it doesn't at least you'll look good while getting submitted.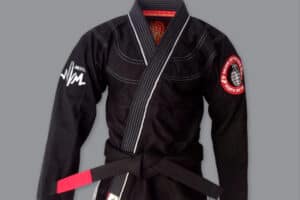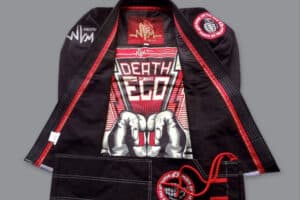 Ronin: Samurai Ghost Jiu Jitsu Gi
You can't have a list of the most unique BJJ gis without mentioning Ronin. Found in 1980, Ronin has made a name for themselves for their quality craftsmanship, fit and reasonable prices. They have gained widespread appeal among jiu jitsu practitioners around the world.
Making it on our list is the Ronin Samurai Jiu Jitsu gi. This unique bjj gi embodies the spirit of the Ronin. A Samurai with no lord or master the Ronin was a wandering samurai who wore two swords and typically worked as mercenaries, bodyguards or turned to crime syndicates.
The Ronin Samurai Gi is ideal for training and competition and comes in black so it fades to have a smokey appeal. The jacket features a lightweight 420 gsm Pearl Weave. Ronin is fully embroidered along the lapel and across the back skirt of the jacket. The inside of the jacket features a vintage-style line art print of a Samurai warrior and comes with firm EVA foam collar. The pants are a 11 oz premium duck canvas with a heavy-duty stretchy rope drawstring.